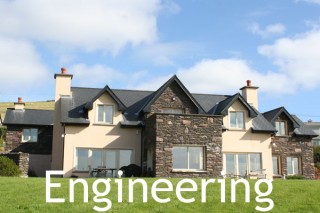 Declan Noonan & Associates provide a multi-disciplinary range of engineering services.
We provide all of the services you would expect when building or buying  a home or commercial building. We provide technical advice to clients on the feasibility of a project at a very early stage which can help in identifying possible stumbling blocks. Legislation is continuously changing and bureaucracy is ever-increasing in the construction industry. We can ensure every aspect of your legislative responsibilities are fulfilled and adhered to. Thereafter, we can undertake and manage every aspect of the construction process for you. Architectural drawings are often just pretty pictures. We can provide the actual details of how the pretty picture can become realised using the most cost efficient method of construction.
Whether you simply need a structural beam sized, or you face a compliance issue or you require a more complete engineering service, we are the people to contact. No job is too big or small for Declan Noonan & Associates.
Building Regulations
The responsibility of compliance with building regulations rests with the property owner. It is up to you to appoint a competent architect or engineer to ensure compliance with the regulations.
Before building commences you need to submit compliance drawings to the Building Control Department, showing how the proposed work meets all the requirements of the building regulations. As your engineer we will prepare those drawings for you and will inform the Building Control Department, on your behalf, of our proposed inspection plan as the building work proceeds. We will also sign mandatory certificates of compliance for the design stage prior to the construction stage and on completion of the construction stage.
A good idea is to appoint us to undertake a detailed set of working drawings that can be used to demonstrate compliance to the Building Control Department, whilst also being used to get accurate prices from building contractors.
The Building Regulations are very restrictive as to who can carry out this work for you. We are fully qualified and certified to undertake this work for you.
We welcome the change in the regulations, as it means that other companies will be forced to improve and provide a comparable service to the service we have offered all of our past clients. We feel it is only appropriate that every project should have a detailed set of working drawings and specifications to ensure everything is completed to the highest standard. The new regulations are reinforcing proper building practices are ensuring that these are implemented consistently. They also mean that there is a single point of responsibility if a mistake is made, ie. the architect or engineer is held accountable.
We can offer this service to anyone; whether you are thinking of starting a new project, or if a project is underway and you feel your planning agent is not properly qualified or competent to undertake this aspect of the project, please contact Declan Noonan & Associates.
Click here for further information on Building Regulations.
Fire Safety Certificates
Fire Certificates are required for all buildings other than individual residential houses. Fire Certificates are issued by the Local Authority Building Control Department on foot of a Fire Certificate Application which demonstrates that the building complies with Part B of the Building Regulations. In this regard the building must satisfy the means of escape, fire spread, fire alarm and access to the building by the fire services. Our team of experienced building designers can advise on the design requirements to comply with the relevant regulations and prepare the relevant applications to obtain a Fire Certificate for the relevant Local Authority.
Click here for further information on Fire Safety Certificates.
Disable Access Certification
A Disability Access Certificate is a certificate granted by a Building Control Authority which certifies compliance of the design of certain works (e.g. new buildings (except dwelling houses), some extensions to, and some material alterations to buildings (except dwelling houses) with the requirements of Part M of the Building Regulations. We provide advice and expertise in dealing with these applications.
Click here for further information on Disabled Access Certification.
Expert Witness and Legal Reports
We can prepare professional reports suitable for use in litigation situations. We are available to attend, and to act as a professional witness at Courts of Law. Sometimes, a Solicitor when advising their Client will require a report prepared by an Engineer. This report will need to be accurate, concise and independent in order to enable the Solicitor or the Counsel to best prepare their Clients case.
We aim to provide an unbiased, professional opinion in our reports. These reports are prepared in a clear and concise manner, and are supported normally with appropriate drawings and photographs. Our experience has enabled us to provide accurate and fast assessments of various situations. This combined with the good relationships we have built up with many Solicitors, Barristers, Insurance Companies, and Public Officials help us to achieve good results for our Clients.
Click here for further information on Expert Witness and Legal Reports.
Boundary Survey
If a property boundary needs to be established, for example if it is in dispute or you need to buy or sell the site, we can help identify the boundary lines and act as an expert witness if required.
Click here for more information.
Land Surveying
We can carry out topographical surveys including contoured and level surveys.
Reports for Property Purchasers
There are a number of surveys and reports to be carried out when purchasing a property, be it residential or commercial. We can advise on which reports are necessary and carry out the work for you.
Click here for further information.
Building Survey Report (structural survey) 
A report outlining any faults in existing houses (often completed when buying a house).
Tender Pricing Pack
We can put together all the necessary elements for a full tender pricing pack for your business. Everything from working drawings to specific project requirements will be included. Our years of expertise will ensure that nothing is missed.
Click here for further information on Tender Packs.
Tender Negotiation
Once equipped with a detailed set of tender documentation, we can mange the tender process for you. We can send out the tender documentation to the selected contractors and deal with any queries the contractors may have during the tendering process . Once the tender bids come in we can assess your application to ensure everything is included in the price. If the tender price is over your budget we can work with the tenders to negotiate a revised tender price. Once you have selected your preferred contractor we can confirm the details and draw up a building contract. This outlines every detail of your project and everyone's responsibilities are clearly defined. This stage of your project is very important . If a building contract is in place it ensures that the building phase will be an enjoyable experience for everyone.
Construction Supervision
Having a Project Manager or Project Supervisor will allow you to take a step back from the stressful day-to-day running of the project and choose your level of involvement on site. We report back regularly and liaise with you as and when issues or decisions arise. We can manage any project, regardless of the size and scope, so whether you want to turn that green field into your dream home or whether you are extending to suit your growing family you will reap the benefits of a Project Manager.
Click here for further information on our project management service.
Valuation Report (for a mortgage company)
When taking out a mortgage, home buyers have to provide their mortgage lender with a valuation report. This is not a detailed survey report – it simply outlines whether a property is suitable for the bank to offer a mortgage. We can provide all the necessary documentation in relation to your property to facilitate your mortgage approval.
Mortgage and Stage Payment Certificates
When you engage Declan Noonan & Assocciates as the Consultant Engineer on your project we will administer the building contract and undertake periodical site inspections of the building work to check that the works comply with the Building Contract and the Building Regulations. We will issue the Stage Payment Certificates to the financial institution and oversee the Stage Payments are normally made to the Building Contractor at fixed stages during the course of a Building Contract.
Certificates of Compliance
When a property is altered or extended, a certificate of compliance is often required to confirm that the property complies with planning and building regulations.
Insurance Assessment Valuations (commercial properties)
It is important to ensure that your property is adequately insured & that you are not paying higher premiums than necessary by being over insured. We provide accurate valuation to ensure your insurance premium and policy is appropriate. The valuation is known as the reinstatement value. Your premium is based largely on this.
Pre Lease Acquisition
When tenants are taking out a lease with a landlord, they should get a full picture of the condition of the building, and the repairs and maintenance that are likely to be required during the lease.
Schedules of Dilapidation
Landlords need to ensure that their properties are maintained properly. A schedule of dilapidation describes any defects present during or at the end of a lease, which breach the lease terms, and outlines the repairs that landlords consider necessary to return the property to a proper state of repairs.
Snag List
A snag list is a report outlining any faults in a new house or apartment, that should be rectified before the sale closes.
Click here for more information on our services for property purchasers.