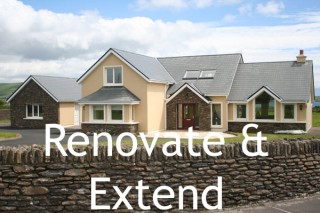 Nowadays, we are meeting more people looking to retain their own home and extend it or renovate it to suit their changing needs. Our advice for anyone thinking about renovating or extending their home is to spend time deciding what you need and want out of this project. Don't be too concerned about how it is going to be achieved, that is where a good designer comes in. In order to get the most out of your extension or renovation, it is a very important first step to be clear about what you are trying to achieve from the proposed project and what you want out of your home. Once you have a clear and defined goal for the project it is our responsibility to make it happen. We take the lead role in working out how best to achieve your aspirations. We will shape all of the components of the design layout, finishes, orientation and balance it with your budget.
It is amazing the difference a good designer will have on the success of your project. It is very noticeable where a good designer was involved in a project design. The renovation or house extension will integrate into the original structure and surrounding location seamlessly. We have seen many disastrous results of renovations or extensions where no designer was involved; designs where people saw no benefits after the completed revamp of their property and had spent a significant amount of money.
Given the importance of your project you need to get it right first time. Here at Declan Noonan & Associates, we have the design talent and experience to offer you a wide variety of alternative options you may not have even thought of. Contact us to discuss your renovation or house extension project today.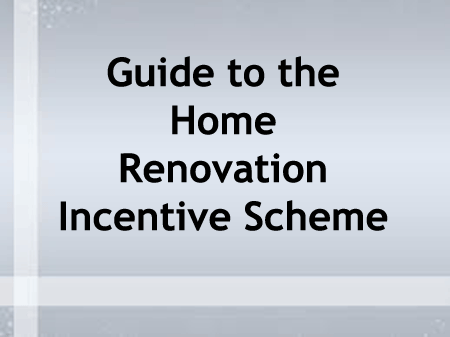 The design of your renovation or extension follows a straightforward process.
The first stage in the process involves a home consultation. We will visit your home, listen to your thoughts about it and discuss your needs and wants for the project. From the home visit we get a real understanding of the scope of the project and the issues needing resolution. We will advise you on what is possible and give you tentative ideas on design. This home visit gives you a feel for us, our product and what we can do for you. We would hope the meeting will assure you we are the right people for you. As this stage we outline our professional fees and all of the costs associated with your renovation or extension.
Once we are appointed to your project the next step is for us to undertake a full survey of your property. We take into account light, site situation, views, etc. to capitalise on all of your site's features. Once we are on site we can also advise you on whether or not your proposed works will require planning permission. 
Usually we prepare a few different design alternatives that we will present to you. We then talk through the different design proposals in detail. It is through these discussions on the merits of each option and your feedback that the final design evolves. We then create a photomontage. This will allow you to get a real understanding of what our proposals will look like when finished.

Only when you are one hundred percent happy with our design proposal we move forward to submitting a planning application with the local planning authority. On receiving planning approval we will prepare Building Regulations compliance drawings, structural specification and tender drawings.
Many of our clients like a level of support during the construction process. We can provide any level of service our client wants; from actually undertaking the construction work or simply making periodic site visits to monitor the quality of works. Our flexible way of working means the choice as always is yours.
Our aim is to offer you exceptional service and an elegant, quality design at a price that is fixed from the outset. You will be safe in the knowledge that you will be getting a wonderful renovation or extension and a stress free service at a very affordable price. We can also advise our clients on the Home Renovation Incentive scheme which provides an income tax credit to homeowners who carry out renovation and improvement works on their principal private residences.
Contact Declan Noonan & Associates to discuss your renovation or extension project. 
Here are some key issues for you keep in mind while you plan your house extension:
Design
Have a professional design the extension for you. This is one step that is absolutely crucial if you want top quality results on your extension. The secret to a successful renovation or extension is to look beyond what you have and visualise what you want to have. A good designer can give you exactly what you want, whilst at the same time working with what you have to keep the costs of the project appropriate and within your budget. Furthermore, a skilled designer is necessary as the set of obstacles are more complex when dealing with an existing structure. One has failed if after the works the existing house does not represent all the elements of a purpose built house.
Having an experienced architect, such as Declan Noonan & Associates, work on your design can save you money from long term mistakes and bad workmanship. We often hear our clients say things like "I would not have thought that was possible" or "I never thought of that". When designing we do not see negativities. Instead we take your dreams and integrate them seamlessly with your existing building and the practicalities of your site and location.
We also can create working drawings. These are the medium for you to communicate to the builder what exact finishes and features you expect the building to have. They allow you to describe exactly what you want your house to look like.
Click here for more information on working drawings.
Cost-effectiveness
An extension is more cost effective than moving or building a new house; however the cost of building the extension can sometimes be greater per square metre. The reason for this is due to it being a smaller and therefore less profitable job for the builder. There are also a lot more obstacles to get around. This will depend on the type of building that you intend on renovating. Contact Declan Noonan & Associates and we can advise you on whether or not a renovation or extension is suitable for you, your property and your budget.
Planning Permission
In Ireland, building an extension or indeed making any other significant changes to your house may require that you get planning permission. You must be certain you have the right permission before you start, otherwise it can result in severe fines or even imprisonment. The basic rule is that you can extend your property without planning permission once the extension (or total number of extensions) is less than 40 sq metres. To be exempt the extension must be at the back of the house and must be not less than 2 metres from any party boundary.
Being granted planning permission is very rarely a problem when extending or renovating your home. However the importance of having a good design and a well presented planning permission application cannot be overstated. By appointing Declan Noonan & Associates you can be confident in the knowledge that we have the necessary professional qualifications, and experience to provide you with a proficient planning solution. We are also fully insured to protect your interests.
Click here for more information on Planning.
Budget
Have a clear budget set out from the beginning. If you are selecting the contractor yourself, we advise getting a number of quotes from different builders. We also caution against choosing a builder just because they have given you the cheapest quote. More often than not, you will get what you paid for. Always allow for roughly 10% more than you have budgeted for as unforeseen expenses always pop up. Ensure that it is clear on all prices you are quoted are inclusive or exclusive of VAT. You don't want to get any surprise at the end that there is VAT to be added on to the price. All of our services are tailor made to suit your individual needs and budgets.
Builders
Hire a professional to build it. We recommend getting references, qualifications and insurance details from each contractor who quotes for the job. Make sure you have a building contract drawn up between you and the contractor so that there is no confusion on what has to be done and where the responsibility lies for the project. The building contract should describe everything about the extension including the exact specification of the work to be done, materials to be used, stage payments and timescale, etc.
Setting out the budget and finding the right people for the job can be very stressful. Here at Declan Noonan & Associates, we provide a comprehensive service. We can cover everything from designing your extension and applying for planning permission, to tendering for builders or even building it ourselves.
Click here for more information on our building service.
Natural Light
Another factor to consider is that an extension could potentially significantly reduce the amount of natural light entering the house. Examples of good design are in the minority, as many houses are badly laid out and fail to take in the natural beauty of the site or the layout does not meet the needs of the family. Darkness within the home is a very common design fault. We find all of these things are so easily avoidable with good design. Here are Declan Noonan & Associate we always utilise the light and sun paths to ensure as much natural light enters your home as possible.
Additional Costs
It is also worth bearing in mind that you may need to rent alternative accommodation while the extension is underway. This in itself should be factored into your overall budget. A typical house extension, depending on the size can realistically take anywhere from four to six months from start to finish. During our tender process we ensure that each tender includes a timescale for the works. This allows you to accurately calculate your rental costs.
Fixtures and Fittings
We recommend that you use the highest quality electrical and plumbing fixtures and fittings that you can afford. This does not mean purchasing the fanciest fixtures and fittings that you can find but the most reliable. We can advise you on what to choose. Our choices will always balance function and style. Click here for more information on our Interior Design Service.
Certification and regulation
It is necessary to have each stage of the build signed off and certified. Once each stage has been signed off, the builder is then paid. These are called Stage Payment Certificates. This ensures that the works comply with the Building Contract and the Building Regulations. Declan Noonan & Associates can handle all aspects of certification for you.
Click here for more information on building regulations.
Extending your house is a one time event in most cases. Whilst you might think it will be a big problem, we have the simple solutions. Through our years of experience working with older properties we have seen and dealt with everything. So save yourself time, money and stress, and do it properly the first time around. Contact Declan Noonan & Associates.
****************************************************************************************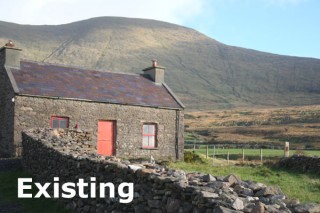 Here is an example of the different options we presented to a client who was unsure of what they were looking for. We discussed their needs and looked at the suitability of the site. Using photomontage technology we presented three different options to the client. They were then able to visualise what their house would look like after the renovation and incorporate different elements that they liked into the final design.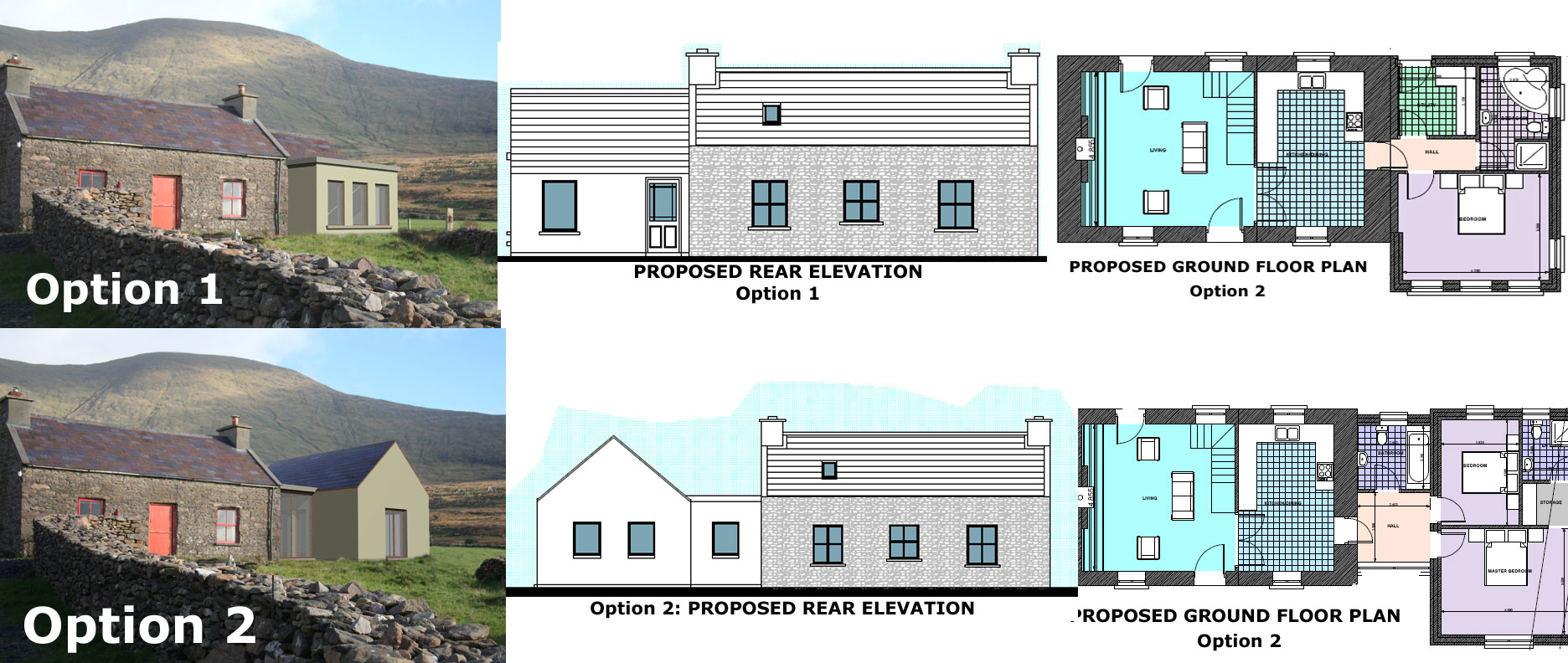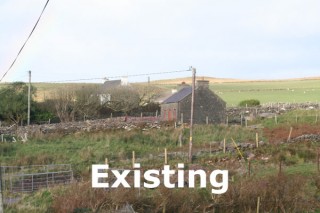 ***************************************************************************************